The Sharing economy has impacted our lives in the last few years. By allowing people to share their time and resources, we see better customer experience and lower prices for services we got accustomed to… like a taxi.
Perhaps a thought crossed your mind about starting your uber type of company? However, you immediately cooled it down by realising that competing with giant players with colossal marketing budgets and sophisticated software is not realistic.
There are many opportunities in the sharing economy space that allow you to build your uber type of service.
By Uber-type, I do not mean only transportation services, but anything connected with on-demand services or food delivery.
Imagine you build a service that focuses on finding the best plumber that can come to your place within 15 minutes to fix your sink. Or allowing someone to pick up your food on the way from work, making some extra money.
The possibilities are endless, and now is the best time to build a business in this space.
One thing you need to understand in the area of your operation. Think local, provide the best services to your local community and win the market. Did you know that uber eats can take a commission up to 30% of the full value of the order? Not to mention service and delivery fees on top of it for the customer. For many smaller restaurants, it's a painful bill. By building a local community service, you can offer a valuable alternative.
The question is how to make it profitable because software development is very expensive nowadays.
You can build your Uber-type service with the help of the Getreve logistic marketplace generator.
Simply go to the Getreve platform and activate the tool
When you get into the system, you go through a simple wizard where you define your business details. At a later stage, you can connect your own domain and build your brand. At first, you will see a web-based system for the operator: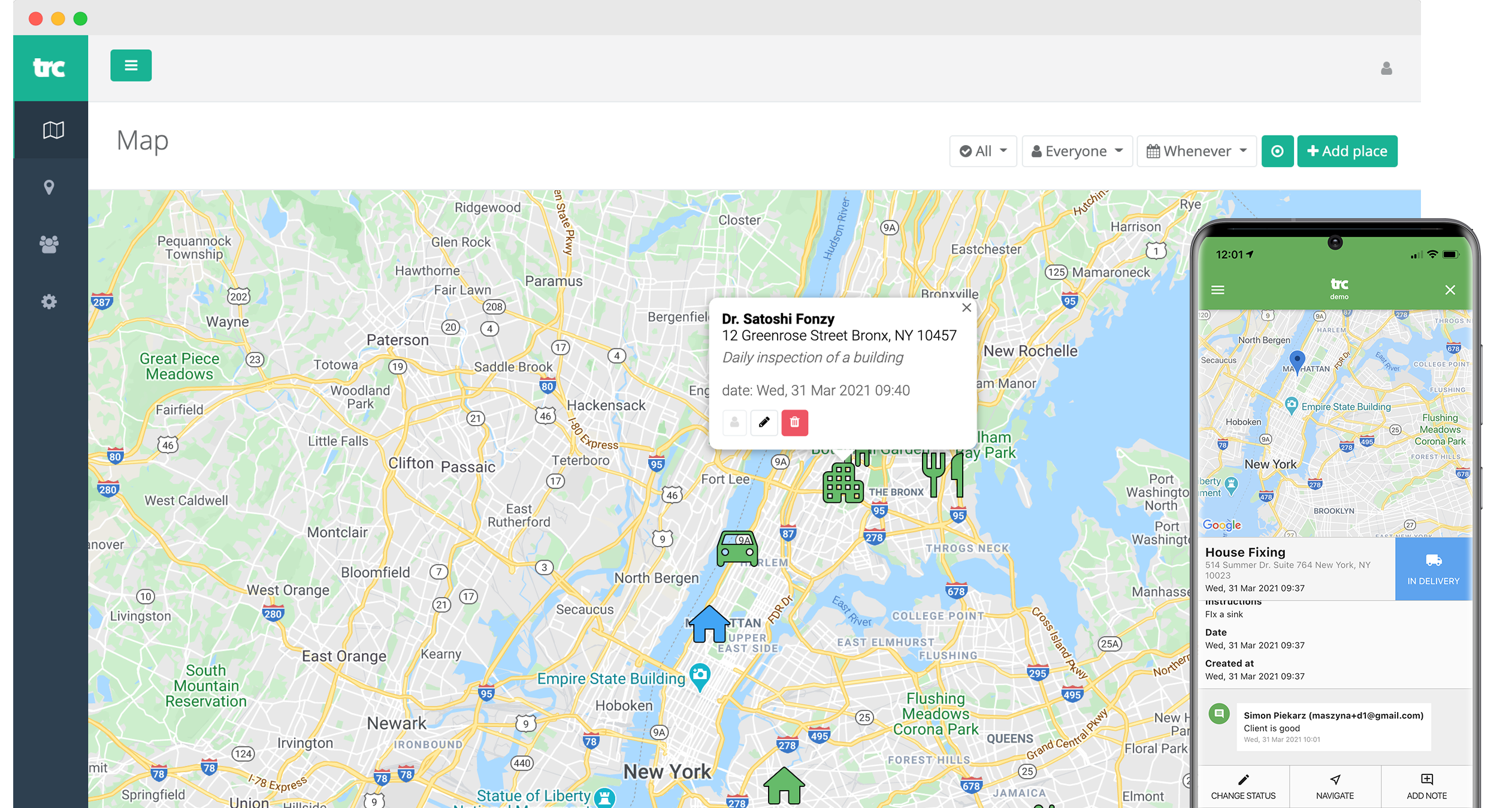 On this map, you can see all parties of your sharing economy ecosystem, such as people who have ordered something and people who are ready to complete that order or provide that service. In this particular situation, people need transport. (just like in uber).
The idea of this marketplace is to match both parties in the best possible way, and that's what this system does.
The first thing you need to do is invite drivers. Drivers can join your marketplace:
By registering to a platform on a special page
By adding them manually in the system
For example, you can simply add a driver by this form
A driver will receive information with a unique code that he can enter into the Android or iOS app.
Drivers get access to a system with mobile app only:
This mobile app is the centre of the driver universe. The app will allow drivers:
To say I'm available
To schedule their free time
To receive orders
To confirm orders
To receive delivery routes
To process basic transportation documents (if necessary)
To check an income wallet
The purpose of this app is wide, however, we will focus on a simple task like "Go to point A pick up the guy and take him to this place".
So you have drivers with the app that are ready to take the tasks.
The tasks can be added in three ways:
By a special web-form for clients
Manually by the operator
Through white-label ordering app (release April 2022)
The client can define just a place of pickup and a location he wants to go, however, the operator can add tasks that are more Sophisticated. In general, a task creation can be simple like that:
If we talk about manual task assignments, the form is pretty complex
You define a lot of different options that will help to find the right driver
What happens when a task is added to a system? (from the client app or manually by the operator ).
It all depends on your configuration. So let's focus on that for a second.
The task is assigned to drivers with two different forms:
Manually option is obvious, the system shows you the best driver and you assign a driver to a task. The driver receives a task on his mobile app without any asking.
The automatic assignment is more complex and is used when clients order something directly. The system will look for a driver with two strategies (that you can switch)
Send to all available drivers that match location and specific a question. Who confirms first get a job
Build a list of drivers and send a question one by one until one decides to complete the task.
When the driver receives a question, it looks like that:
If the driver decline cloud continues to look for a driver.
There are two different types of price calculation for a task:
Based on category (you decide how much it cost for transportation from one place to another)
Based on distance (you decide how much it cost for 1 km)
The price for a driver is calculated in the same way. So, in general, you have two different prices for a client and a driver. The idea is simple when the driver completes the task, the amount of calculated money is transferred to his wallet and available for payout.
This was a concise overview of creating your marketplace and its main functions quickly. With this tool, you can build different types of logistic marketplaces focusing on many different services.